Real name: Robert Alan Morgan
Nicknames: Bob, Bobby, Space, SpAcenut, Robert Alan
DOB: 7/31/1963
Place of Birth: North Shore Hospital, Miami, Florida
Favorite Request: "Anyone have an extra Shuttle ticket for sale?"
Born in Miami, Florida, in 1963, I have lived my entire life here in South Florida, refusing to leave this paradise, employment willing! I did, however, spend 4 years in West Germany, during my US Army tour from 1980 to 1984, where I got my first real experience with snow! (at the age of 17!) I currently work for a long distance phone company, called MCI/Worldcom, Inc. I have been with them for 15 years. I also co-own a small Web Design/Computer Sales and a moped parts company after hours, so needless to say, I keep quite busy.
This photo was taken at the Miami Metro Zoo, taking a break from the chaos that I normally live for! 'Twas a nice day to say the least!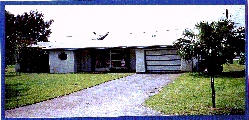 Latitude: 25.986927, Longitude: -80.261592
(my house in Hollywood, Florida)
I have a few exceptional goals in life, that I hope someday to complete. One, is to have the opportunity to take a single orbit around our little speck of the universe. (more "laps" would be great!) I would also like to dive the North Wall of the Grand Cayman Islands, as well as the Great Barrier Reef of Australia.
I have a vast amount of hobbies and interests. It seems every day I add to the list. My love though, of course, is Space Exploration. I have followed the space program since the early Apollo days, before I could even fully understand the accomplishments that the Apollo project had brought to the world. Astronomy is also at the top of my personal favs. Staring through a 3 inch refractor telescope at the age of 6, seeing the rings of Saturn for the first time, my parents were doomed! Little did they know that I was to become more of an expense than initially thought, going through several telescopes the following eight years or so, the earlier one not being "good enough", or "strong enough", to see what I was looking for. I started getting into stellar photography, but was short lived, due to a move to the Panhandle of Florida at 14 years of age, where I had the culture shock of my life, learning what "real farming" was all about.
Living in South Florida, you get to experience, on occasions, some very WILD weather! Every year, when June rolls around, I get quite excited. This is the time of year when Hurricanes start forming in the Tropics. We have been quite fortunate, to say the least, in the past 30 or so years, to be spared by these monsters, other than Mr. Andrew himself, when he decided to take a very large stroll through our neck of the woods, on August 24th, 1992. Due to that beast, there will never be another storm named "Andrew" again, thank God! He came through with a fierce roar, causing major damage to my home. Of course, this sick pup was out recording, on video, (unfortunately in the dark, he hit hard around 2 AM) as much as possible, tracking it for days on 3 different computer tracking programs, without sleep. Finally, the day after he hit, was I able to lay down and get a few hours of sleep. Since that day, I have acquired alot of respect for these tropical systems. So, meteorology is also a passion, not that I don't have enough to play with already!
Other interests include raising animals. I have had just about every animal you can possibly imagine. From thousands of snakes, hundreds of birds, cats, dogs, ferrets, rats/mice/gerbils/hamsters, lizards, skunks, raccoons, alligators, squirrels, scorpions, spiders, gees, you name it! A now, long lost friend of mine, got me back into birds, she made it seem so easy to take care of the little buggers. Boy was I wrong! Having almost 40 at one time, it got hectic at times. I enjoyed hand-raising Cockatiels and Cockatoos the most. There was a great satisfaction watching these little, ugly, newly hatched babies, become beautiful and very friendly, adult birds.
Computers and electronics. Now that is another subject in itself. Not being familiar at all with a computer in 1989, I starting picking other's brains until I got enough knowledge to become slightly dangerous. I learned mostly from trial and error, as well as from a manual or two. (Yes, I admit it, I have picked at least one up. Maybe not more than that though!)
I enjoy scuba diving, salt-water fishing, and all types of water sports. I frequent the Florida Keys (AKA - The Conch Republic) as often as possible, for diving and fishing excursions. It's quite relaxing down there, a great getaway from the hustle and bustle from the South Florida madness.
Cooking.... That is something I no longer call a hobby, but more of an art. I enjoy cooking so much, I practically live for it! My specialties are beef, and any kind of seafood, which both rank high on my favorite foods.
I enjoy music, no matter the type, other than Rap. Not too fond of Rap for some reason. I play guitar in my spare time, picking it up again for the 3rd time in my life. Played as a child, between the ages of 5 and 7. Mr. John Georges, my instructor in Miramar, was a great teacher, I wish I would have kept up with it then! I started again at the age of 15, until my induction into the U.S. Army, at 17, where it almost became a past history. Then, 15 years later, I met a great friend, through my BBS system (remember those things? I still run one! I refuse to give up!), who played pretty doggone good. He showed me new tricks, that weren't available back in the old days, on how I could get back into guitar, without having to start all over again learning to read music. So, good friend & now, business partner of mine, Bill, get together as often as possible, and just plain "Jam".


Other than that, I am a pretty mellow kinda person, but always seem to be on the move, always trying to keep busy at something. I am a pretty happy person, and always clowning around, making others laugh. I don't like negativity, and I try to avoid negative atmospheres, as it tends to bring people down.
I am 6'1" tall, medium build, brown eyes and hair (curly), weighing in at around 200, but tends to fluctuate + or - 5 lbs., depending on my moods and surroundings at the time. (A perfect weight control!) Beats dieting!
My living family consists of my mother Kay, 2 brothers, Todd and Dale, 2 sisters, Lisa and Pam, Grandmother, 2 Aunts, 2 Uncles, 3 cousins, Michele, Melanie, and Brian. I have 2 kids, Jenny, 16, and Chris, 15, which live in Germany with their mother. I don't get to see or hear from them much unfortunately. I have a lot of "kin" up in Nashville, Greenbrier, and Goodlettsville, Tennessee, and I get up there occasionally to visit them. Talk about some great folks, and some outrageous southern cooking!
If you are interested in an email pal, feel free to drop a line! I have met literally hundreds of people all over the world, via the net, and have to say, some very interesting ones at that! Drop a line, and I will write you back.
Thanks for dropping by, hope you enjoyed the reading!
Have Great Day! :-)
Bob
AKA - SpAcenut
Email me at SpAcenut@rocketship.com
Back to: SpAcenut Presents....The Gold Coast Space Port
There has been
visitors on this page.
LinkExchange Member
This site was created by PipedUp.Com
Copyright © 1996-2000 [PipedUp.Com] All rights reserved.
Revised: Thursday, December 13, 2001 23:47 .